The daring hijacking, escape, and disappearance of D B Cooper has now become a thing of legend.
D B Cooper and his theft of $200,000 have made the mysterious man the topic of a cult following.
In fact, even after all this time, the real identity of D B Cooper is still unknown and the case of the missing money, still unsolved.
In this article, I wanted to summarize the essential parts about D B Cooper's hair-raising plan of escape and the massive manhunt that followed.
Who Was D B Cooper?
Dan Cooper was an average-looking man wearing a black tie and suit who is better known as D B Cooper.
On Thanksgiving eve, November 24, 1971, this man purchased a $20 ticket on Northwest Orient Airlines Flight 305 from Portland to Seattle.
Along with his flight ticket, he boarded the plane with a black attaché briefcase.
What was supposed to be a routine 30-minute flight for the 36 passengers and 6 crew turned into a life-changing event for everyone involved?
Little is known about the man since the name he provided was found to be a fake. Additionally, the dark sunglasses and indistinctive facial features made it difficult to find him later.
Following the description of the flight attendants, a sketch was made of the elusive D B Cooper.
According to the information provided, he was in his mid-forties between 5'10" and 6'. The description also included the fact that along with his dark suit, he wore a lightweight black raincoat, loafers, a clip-on tie, as well as a mother of pearl tie pin.
This detailed description had led to several strong suspects who may have been D B Cooper. However, no one was ever charged for the robbery due to a lack of evidence.
The Hijacking Of Flight 305:
According to the flight manifest, after Cooper boarded the Boeing 727-100, he was seated at 18C.
This seat is in the rear of the passenger cabin where he ordered bourbon while enjoying a smoke.
Ten minutes after the flight took off from Portland at 2:50 pm, Cooper handed a note to the closest flight attendant.
When Florence Schaffner first saw the note, her first thought was that it was just another phone number from a lonely businessman. So, she just shoved it in her purse without giving it another glance.
However, Cooper decided to lean towards her and told her, "Miss, you'd better look at that note. I have a bomb."
Cooper later retrieved the note, but Schaffner claims it was written with a felt-tip pen in all-caps.
While the exact wording hasn't been confirmed, the note mentioned Cooper had a bomb in his briefcase.
After having read the report, Cooper instructed for Schaffner to sit next to him.
To validate his threat, he quickly opened his briefcase. According to her recollection, the briefcase contained eight red cylinders with interconnected wires with red insulation. This supposed bomb was also connected to a large cylindrical battery.
Cooper's Demands:
After showing Schaffner a glimpse of the bomb, Cooper stated his ransom demands:
$200,000 in American Dollars
4 parachutes
1 fuel truck standing by in Seattle to refuel the plane
Schaffner was asked to convey his demands to the pilot, William Scott. At the time, Scott forwarded the demands to the air traffic control, which in turn let the federal authorities known of the hijacking.
At this time, Donald Nyrop, the president of Northwest Orient airline, authorized the ransom payment.
While all this was happening, the passengers were told their flight was going to be delayed due to 'minor mechanical difficulties.'
Schaffner also told the police in her statement that Cooper seemed to be familiar with the local terrain as they circled Puget Sound while the ransom was being prepared.
She also stated that Cooper wasn't nervous, to which, another flight attendant, Tina Mucklow, agreed.
The hijacking ransom was organized in 10,000 $20 unmarked bills.
As for the parachutes, instead of military-issued ones, Cooper demanded civilian parachutes with manually operated ripcords. These parachutes were obtained from a local skydiving school.
At 5:39 pm, the aircraft landed at Seattle-Tacoma airport and was directed to a brightly-lit runway for the exchange.
The Northwest Orient's Seattle operations manager, Al Lee, was chosen to hand over the cash to D B Cooper.
He approved the plane in his street clothes and delivered the money (in a knapsack) and parachutes to Mucklow through the aft stairs.
After Cooper checked the ransom, he ordered the passengers as well as Schaffner and the senior flight attendant Alice Hancock to depart.
The Great Escape:
After refueling, D B Cooper told the pilot to fly to Mexico City at minimum airspeed (115 mph) at maximum altitude (10,000 ft.).
He also told the pilot to keep the landing gear deployed and the cabin unpressurized.
However, since this would reduce the range of the flight, the plane would refuel in Reno, Nevada.
At 7:40 pm, the plane took off again heading to Reno with five people on board.
In addition, there were two F-106 fighter aircraft from McChord Air Force Base and one Lockheed T-33 from the Air National Guard who shadowed the airplane without being visible to Cooper.
At 8:00 pm, a warning indicator turned on letting the cockpit know that the aft airstair was activated.
At 8:13 pm, the plane's tail experienced a sudden upward movement that required the pilot to adjust to the trim of the flight.
Following this, at 10:15 pm, the aircraft landed at Reno airport with FBI agents and other authorities having surrounded the plane.
However, an armed search of the whole plane indicated that D B Cooper had indeed escaped.
One thing to note is not one of the five planes that were following Flight 305 saw anyone jumping out with a parachute.
In fact, after this disappearance, it looked like D B Cooper simply vanished into the air.
The Search For D B Cooper: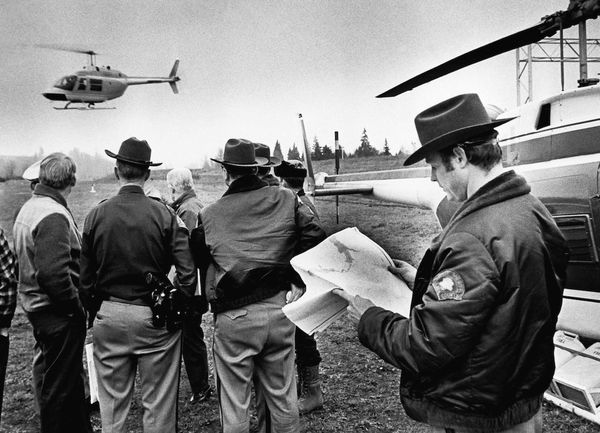 For the months that followed the daring heist, a widespread manhunt was conducted for the airway pirate.
In the confusion that followed the questioning of the over 800 suspects, an overeager journalist thought that D B Cooper was the pseudonym of Dan Cooper.
In the end, only 24 suspects remained after the fingerprints were cross-referenced.
One theory stated that he might have landed a few miles southeast of Ariel, Washington, near Lake Merwin.
This area was searched on foot and by helicopter, but no sign of D B Cooper was found near the location.
In the end, the search for the missing D B Cooper turned out to be one of the most extensive and intensive operations in US history.
Suspects That May Have Been D B Cooper:
William Gossett: A marine with advanced jump training and wilderness survival who admitted to being Cooper, but was not able to provide evidence.
Robert Rackstraw: An ex-con and retired pilot who was caught forging certificates who died on July 9, 2019.
Walter R. Reca: A parachute expert who claimed to be D B Cooper who is discussed in a book on D B Cooper, titled, Getting the Truth.
Ted Mayfield: A skydiving expert with a criminal past that was found to have a solid alibi.
Richard Floyd McCoy, Jr: An Army veteran who staged the best-known copycat hijacking in 1972.
Barbara Dayton (born Robert Dayton): An army pilot with a grudge against the FAA and the airline industry, who later recanted on his statement.
William J. Smith: A WWII Navy vet who lost everything due to the 1970 bankruptcy of the Penn Central Transportation Company.
John List: A mass murderer who killed his family who was captured in 1989 but denied being part of the hijacking.
Kenneth Christiansen: A paratrooper who left gold coins and over $200,000 in bank accounts when he died.
Jack Coffelt: A conman who tried to sell his story to a Hollywood production company but was later discredited by the FBI investigators.
Duane Weber: An Army veteran who claimed to be D B Cooper but whose DNA was not found to be a match.
Robert Richard Lepsy: A runaway man who matched Cooper's description who died in 1976.
Lynn Doyle Cooper: A Korean-war vet whose niece suspected him to be Cooper but was found to have mismatched DNA.
In the end, however, none of these suspects were charged for being D B Cooper and stealing $200,000 before jumping off a plane.
The Impact Of D B Cooper On Pop Culture: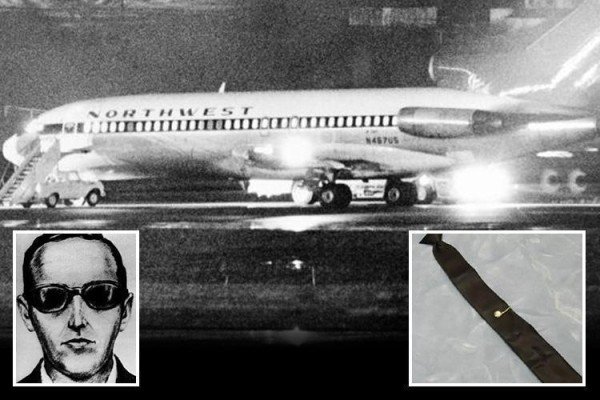 With the lack of information on D B Cooper, the FBI stopped actively investigating the case in 2016.
In the end, this daring air heist created in one of the most iconic anti-heroes of our time.
This is to the point where D B Cooper has gained a cult following like no other. You can find books, films, and songs about the mystery man.