Leatherback sea turtles are an endangered species and one of the world's most threatened marine reptiles. Their unique adaptation sets them apart from other sea turtles, making them incredibly important to ocean ecosystems.
This article will discuss why leatherback sea turtles are so important, their conservation efforts, and how we can help protect this unique species for future generations.
Leatherbacks are the largest living turtle species on Earth; they weigh up to 1,500 pounds and measure over six feet long! These gentle giants migrate across oceans worldwide for food, including jellyfish and other soft-bodied prey.
Unfortunately, due to human activities such as plastic pollution and illegal fishing practices, leatherback sea turtles face numerous threats to survival. We ensure these creatures thrive by supporting conservation initiatives and educating ourselves about responsible coastal development policies.
What Are Leatherback Sea Turtles?
The leatherback sea turtle is a remarkable creature found in all the world's oceans except for the polar regions.
Like most other turtles, its shell is made of cartilage instead of bone, making it more flexible to dive deeper into the ocean than any other turtle species.
The leatherback's diet consists mainly of jellyfish, particularly abundant in its deep-sea habitat.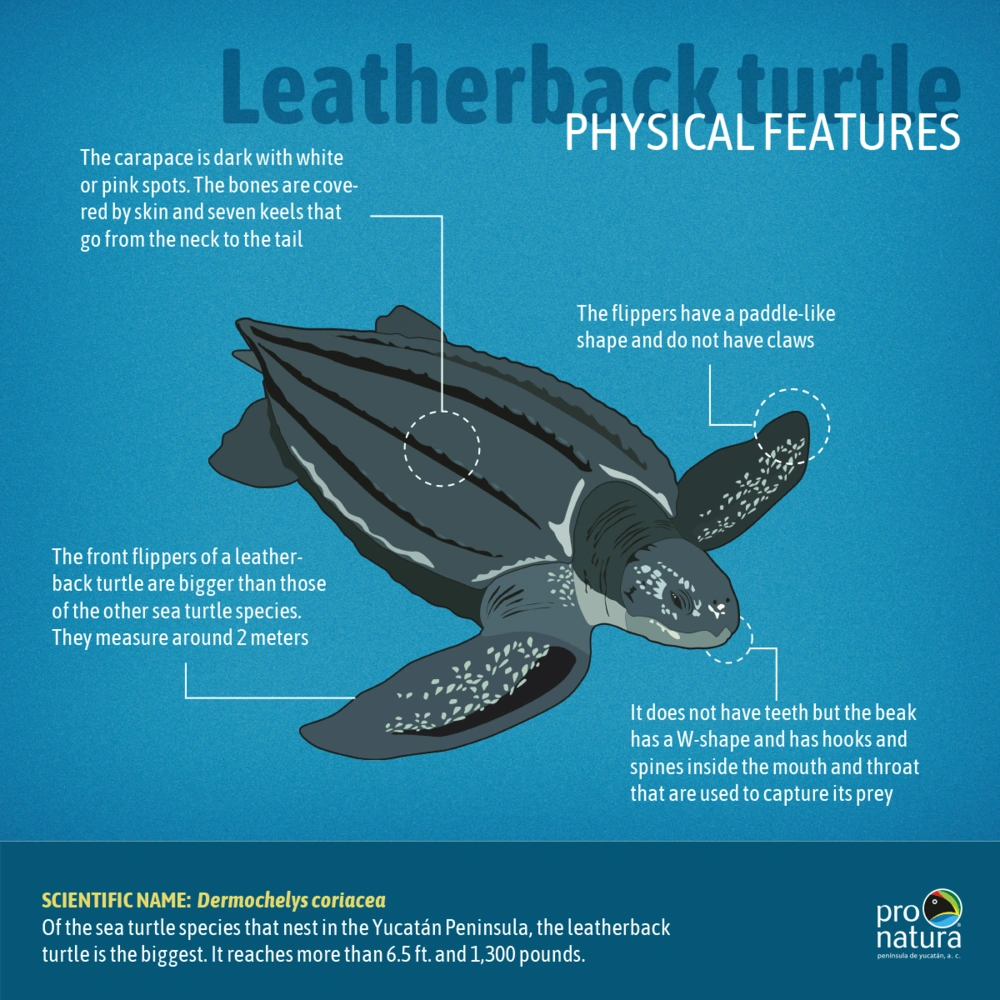 These ancient species have roamed our oceans for over 100 million years, but sadly their numbers have been dramatically decreasing due to human activity.
Pollution from plastic waste poses a significant threat as many leatherbacks mistake these brightly colored items for food, such as jellyfish or squid, and ingest them unknowingly.
Additionally, coastal development destroys beach nesting sites, and fishing nets entangle unsuspecting turtles who venture too close to boats and docks looking for food.
Despite those obstacles, several conservation efforts are underway worldwide to protect this incredible animal from extinction.
In some countries, beach patrols monitor nesting grounds during peak egg-laying season. Others work with local fishermen to ensure they use safe fishing practices that won't harm aquatic creatures, including turtles.
International agreements exist between governments where participating nations agree not to hunt or capture wild leatherback populations within some ocean regions.
These actions, combined with education campaigns to reduce marine debris and promote sustainable living, will hopefully help preserve this majestic species for future generations.
We owe it to ourselves and future generations to keep fighting against threats posed by human activity so that we may continue admiring these gentle giants of the sea for many years ahead!
Leatherback Turtle Mouth
The leatherback sea turtle has an impressive mouth. It has powerful jaws and sharp teeth, enabling it to feed on its prey easily.
Its upper jaw consists of two prominent ridges lined with hundreds of small hook-like spikes that help it catch hold of slippery prey items such as jellyfish. The lower jaw comprises multiple spines, which are used for cutting and crushing food into smaller pieces before ingestion.
This unique adaptation allows the leatherback turtle to take advantage of a wide range of available dietary options in its environment.
Thanks to these adaptations, the leatherback turtle can survive in harsh environments where other species may not be able to thrive.
Furthermore, their diet helps them maintain healthy populations by controlling prey numbers in their habitat and preventing overpopulation from occurring.
Thus, this remarkable creature plays a significant role in maintaining an ecological balance within our oceans.
Leatherback Turtle Size
The leatherback sea turtle is the largest of all turtles, and its size has been estimated at up to 6 feet in length and up to 1500 pounds in weight.
Its shell is comprised mainly of fatty tissue that gives it a dark, almost blackish coloration; however, when viewed closely, small white spots can be scattered across its carapace.
The leatherback's front flippers have pointed tips that help propel it through the water with great speed; these powerful appendages make them one of the fastest swimmers among marine reptiles.
It also features a unique ridged back, allowing for greater underwater maneuverability than most other sea turtles.
Though large for a reptile, its size does not stop this species from undergoing long migrations yearly; they travel thousands of miles between their nesting grounds and feeding areas seasonally.
As such, it requires access to shallow waters close to shorelines and deeper oceanic regions where suitable prey items are abundant.
Such diversity helps ensure this species will remain successful even after many years in the wild.
Despite their impressive size and strength, leatherbacks still face significant threats due to human activities, including pollution or coastal development encroaching upon traditional habitats or harvesting eggs for consumption by local communities.
These actions can result in reduced reproductive success and population declines if unchecked over time.
Fortunately, conservation efforts are being made for these magnificent creatures so future generations may continue to witness their presence around our oceans for years.
For populations of leatherbacks to survive into the foreseeable future, measures must be taken now at local levels everywhere they inhabit – from reducing plastic waste entering our waterways to protecting nesting beaches from disturbance during critical seasons – so together, we can keep these ancient animals thriving throughout their journey ahead.
What Do Leatherback Sea Turtles Eat?
Leatherback sea turtles are a unique species of aquatic turtle in oceans worldwide. They mainly feed on jellyfish but consume other marine animals, such as squid and fish.
Leatherbacks have evolved to become highly efficient predators when consuming their food source: jellyfish.
This is due to their long sharp beaks that allow them to puncture and ingest large jellies effortlessly. This ability gives leatherbacks an advantage over other species of sea turtles who cannot eat jellyfish with the same efficiency.
These powerful creatures' diet is not limited to jellyfish; they also enjoy feasting on crabs, shrimps, mollusks, and some plants like algae or seagrasses.
In addition, leatherbacks will sometimes scavenge for dead prey to supplement their diet.
The digestive system of leatherback sea turtles has explicitly adapted for a diet consisting primarily of gelatinous material like jellyfish and squid. An adult leatherback can consume more than seven hundred pounds (318 kilograms) of food annually! Their stomach acidity is higher than any other reptile allowing them to digest rigid materials like those found in their primary prey, which would otherwise be indigestible by most animals.
Leatherback sea turtles play an essential role in ocean ecosystems by helping control populations of certain types of prey while providing valuable nutrients to the environment through their waste products.
Without this essential predator/prey relationship, many food webs could be thrown out of balance leading to potentially devastating consequences for entire oceanic communities.
Understanding what these incredible creatures eat helps us better protect and conserve them so future generations can continue benefiting from their presence in our oceans.
What Is The Lifespan Of Leatherback Sea Turtles?
The leatherback sea turtle, the world's largest living reptile, has an incredibly long lifespan. These majestic creatures can live up to 100 years if they can avoid predators and other environmental threats.
It's impressive how long leatherback sea turtles live! Their lifespan is genuinely incredible. On average, they can survive up to 45 years in the wild and even longer in captivity. But not all turtles make it that far – many succumb to predators or disease before their time is due.
So what makes a leatherback turtle so resilient?
The most crucial factor for any species' longevity is its ability to adapt. Leatherback sea turtles have evolved an astonishing array of physical and behavioral adaptations that allow them to survive the changing environment.
For example, their thick, rubbery hide helps protect them from predators like sharks and other marine animals. They also possess powerful flippers which help propel them through the water with impressive speed and maneuverability.
In addition to these physical traits, leatherbacks are particularly good at finding food sources wherever they go. This allows them to take advantage of available resources no matter where they find themselves, whether in deep ocean depths or on warm tropical beaches searching for jellyfish delicacies.
Finally, fortune favors the prepared – this also rings true for leatherbacks. Many times a year, female leatherbacks come ashore in large numbers to lay eggs on sandy shores near bodies of saltwater worldwide.
When hatchlings emerge months later (having survived predation by birds and other land-based creatures), they are ready to join hundreds of thousands of others who will complete their journey into adulthood — each one with unique characteristics developed along the way, yet sharing an everyday resilience that has ensured survival since prehistoric times.
But how much do we know about these ancient animals and their life cycles? Let's take a look:
 Leatherbacks reach sexual maturity between 8-12 years old
Adults may migrate several thousand miles during the breeding season
Females lay multiple clutches of eggs each year on sandy beaches
Studying the lifespans of leatherback turtles is no easy feat; researchers must monitor individuals for decades or even centuries to gain insight into longevity.
Even with technological advances, it remains difficult to determine exact lifespans due to deaths caused by human activities such as fishing accidents or habitat destruction.
Despite this challenge, scientists continue researching these fascinating creatures so that conservation efforts might be improved and more sea turtles will be able to live out their entire lives in the wild.
Are Leatherback Sea Turtles Predators?
The lifespan of leatherback sea turtles is quite impressive. Given the right environment, these creatures can live up to 45 years in the wild and even longer in captivity!
Now that we have covered their longevity let's move on to another important topic – are leatherback sea turtles predators?
Yes, they certainly are predators. Leatherbacks feed primarily on jellyfish but will also eat a variety of other items, such as fish eggs, squid, crustaceans, and algae.
They use their powerful jaws to catch prey and then swallow it whole with the help of special throat plates in their mouths.
To keep their hunting skills sharp, leatherbacks often practice what's known as 'stalk-and-ambush' techniques which involve sneaking up on unsuspecting prey before making a quick attack.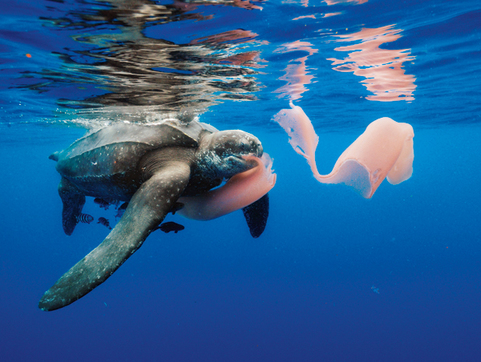 In addition to being predatory animals, leatherback sea turtles are speedy swimmers. They use large webbed feet to propel themselves through the water at up to 22 miles per hour – faster than most humans can run!
This helps them quickly chase down any potential meals they encounter while swimming around looking for food.
Not only do leatherback sea turtles hunt effectively, but they're also capable protectors when threatened by predators like sharks or killer whales; they'll attempt to scare away attackers by raising their heads and flapping their front fins, aggressively arching their backs into intimidating posture.
This makes them formidable opponents against anyone who might try to harm them or steal their hard-earned meal!
Leatherback Sea Turtle Behavior
The leatherback sea turtle is a unique species of marine life with fascinating behaviors.
It can weigh up to 1500 pounds as an adult and grow over 6 feet long. With these impressive physical characteristics come some equally unique behavior patterns:
It prefers to eat jellyfish primarily and migrates thousands of miles from its nesting areas to find them.
Leatherbacks regulate their body temperatures by relying on the warmth of ocean currents instead of internal mechanisms like other turtles do.
They spend most of their time in deep water and dive 1,200 meters deep into the ocean for food and shelter.
Unlike other turtle species that lay eggs on land, female leatherbacks dig holes on beaches near the shoreline to bury their eggs before returning to the sea.
These attributes make leatherback sea turtles stand out among their peers and have earned them the title "living fossil" due to how little they have changed since ancient times.
Their remarkable adaptations ensure that we'll be able to continue appreciating this captivating creature for generations to come!
Reproduction In Leatherback Sea Turtles
The leatherback sea turtle is an iconic species that plays a crucial role in the ocean's delicate ecosystem. Reproduction is a critical part of its lifecycle, and it takes great care to ensure successful breeding.
Leatherbacks migrate vast distances to mate, deposit eggs on nesting sites, and return to feeding grounds. Despite their strong instinct for reproduction, they face many obstacles that can impede the successful mating or hatching of offspring.
To understand how this unique species reproduces, looking at its various reproductive cycle stages is essential.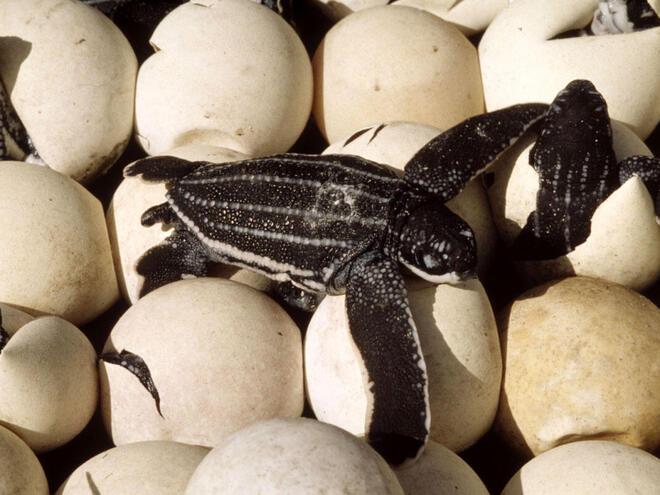 Leatherbacks reach sexual maturity between 5-7 years old when they begin migrating towards nesting beaches where they breed with one another. Females will often lay 100-125 eggs per clutch thrice during a single season before returning to feeding grounds thousands of miles away.
Once laid, each egg must incubate in sand temperatures ranging from 28°C – 32°C (82°F – 90°F) over 60 days before hatchlings emerge from the nest chamber into their new environment.
Once hatched, newborn turtles encounter numerous predators looking for easy meals, such as ghost crabs who feed upon newly emerged hatchling's exposed bodies.
Hatchlings also have difficulty navigating sandy surfaces due to their limited vision and lack of experience recognizing potential threats like predators, human disturbances like light pollution, or beach equipment nearby.
The odds are stacked against them; only 1 out of 1000 baby turtles survive long enough to become juveniles capable of making the journey back home again.
Despite these harsh conditions, leatherbacks remain resilient, thanks mainly to their ability to reproduce quickly and in large numbers.
Leading researchers believe that if we take better care of our oceans by reducing plastic waste and other pollutants, leatherback turtle populations may recover faster than anticipated.
By understanding the complexities behind their reproduction, we can work together to safeguard this beloved creature so future generations can enjoy its presence for many years.
Threats To Leatherback Sea Turtle
The leatherback sea turtle is a majestic creature that relies on the ocean for survival. Unfortunately, these incredible animals face many threats in their natural habitats.
Their population numbers have steadily declined due to human activities such as overfishing and plastic pollution.
In addition, climate change has caused an increase in sand temperature, which can devastate the leatherback's nesting sites. Fewer hatchlings survive into adulthood, further threatening the species' future existence.
Bycatch from fisheries also significantly impacts leatherbacks by trapping them accidentally in longlining gear or shrimp nets.
Fisheries often use hooks with bait attached to try and catch fish, but this bait attracts other marine creatures like turtles, who get caught up in the equipment too. To make matters worse, once tangled, it is tough for a turtle to free itself, so they are left struggling until eventually drowning or starving to death.
Another factor driving down their numbers is the poaching of eggs from their nests along coastal shores. Poachers will take clutch after clutch of eggs without regard for keeping populations stable, leading to much lower numbers than what would naturally occur if allowed to remain undisturbed.
Additionally, beachfront development destroys nesting habitat by directly removing beaches or artificial lighting at night that disorients baby turtles away from the ocean during the hatching season.
It is clear that there are multiple issues impacting leatherback sea turtles today, and conservationists worldwide are working tirelessly toward finding solutions before it's too late.
From establishing protected areas where fishing regulations are strictly enforced, creating public awareness campaigns about plastics and sustainable seafood consumption, and even setting up hatcheries dedicated solely to protecting vulnerable egg clutches – efforts continue every day to save these magnificent creatures before we lose them forever.
Conservation Efforts
The leatherback sea turtle is a critically endangered species that faces many threats. Despite its vulnerability, conservation efforts have been made to protect this animal and help restore its population numbers.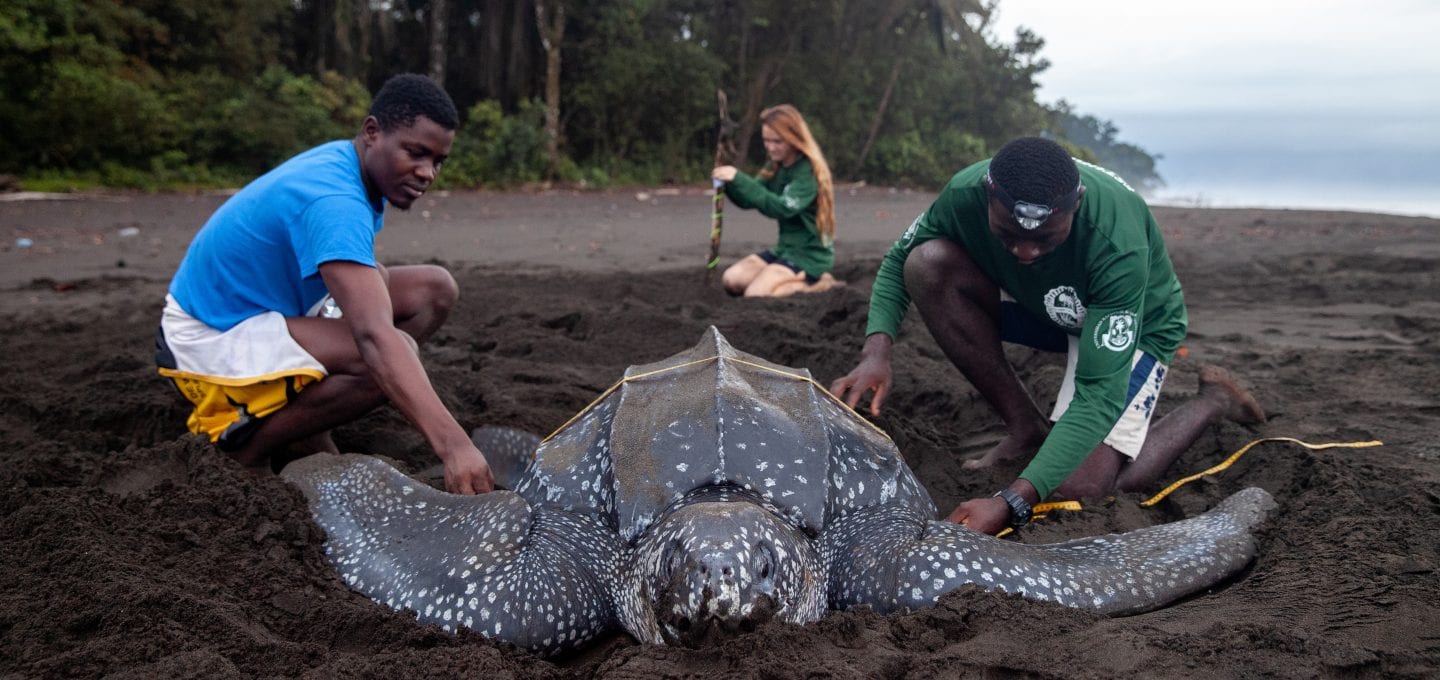 One of the most significant projects undertaken was the establishment of the Leatherback Trust in 1995. This trust works with local communities and governments to assess potential threats and develop strategies for protecting nesting beaches and open ocean habitats where turtles feed on jellyfish.
Additionally, they collaborate with scientists who study migration patterns and behavior and conduct research into how climate change affects their populations.
The Leatherback Trust also works to reduce human-turtle interactions by educating locals about the importance of conserving these animals near nesting sites.
They encourage fishing practices that are less harmful to turtles and work with researchers to monitor fisheries management in areas frequented by turtles.
In addition, they support international enforcement agencies that aim to stop illegal poaching, trafficking, or the sale of leatherback products such as eggs or shells.
To ensure successful protection efforts for the future survival of this species, all stakeholders, from government entities, local people, researchers, non-governmental organizations (NGOs), and even tourists, must come together to conserve them.
By combining forces through collaboration and education, we can create a brighter future for these majestic creatures while safeguarding their long-term existence on our planet.
Exciting Facts About Leatherback Sea Turtles
The leatherback sea turtle is a remarkable animal; learning more about it can be fascinating.
It's the largest of all sea turtles and can weigh up to 1,500 pounds!
Its ability to dive more profoundly than any other turtle makes it unique among its peers; they are known to reach depths of 4,200 feet.
This species also has a unique adaptation that helps them survive in deep waters: an extra layer of fat under their skin called 'pearls,' which keeps their body temperature stable during long dives.
These creatures have an incredibly high tolerance for cold water and can even travel thousands of miles across oceans without eating.
Their unique migratory patterns make them one of nature's most resilient animals.
Sadly, however, due to human activities such as fishing gear entanglement and plastic pollution in waterways, this incredible species will soon face extinction if we don't take action now.
We must act quickly to protect our planet's marine life before it's too late.
Frequently Asked Questions
Where Do Leatherback Sea Turtles Live?
Sea turtles live all around the world in tropical and subtropical waters.
Leatherbacks, in particular, are found on both sides of the Atlantic Ocean, from Norway to South Africa, and on both sides of the Pacific Ocean; they have also been spotted off the coasts of New Zealand and Australia.
They typically inhabit shallow coastal areas with sandy or muddy bottoms near coral reefs and seagrass beds where their food sources can be easily accessed.
How Fast Do Leatherback Sea Turtles Swim?
Sea turtles are capable swimmers, and the leatherback sea turtle is no exception.
They can swim up to 35 kilometers per hour, making them one of the fastest marine species.
This helps them migrate over long distances quickly, aiding in their survival.
How Often Do Leatherback Sea Turtles Lay Eggs?
Sea turtles lay eggs every two to three years, depending on the species. Leatherback sea turtles are no exception and typically lay between 80-100 eggs in a single clutch.
The female leatherback turtle will travel great distances back to the beach where she was born and will use her hind flippers to dig a nest in the sand for her eggs. After laying her eggs, she covers them with sand and returns to the ocean, leaving the hatchlings to fend for themselves after they emerge from their shells.
What Is The Population Size Of Leatherback Sea Turtles?
Leatherback sea turtles are critically endangered, and their population is between 34,000 and 36,000 individuals.
They are the world's largest turtle species and have seen drastic declines recently due to climate change and threats of poaching.
The International Union for Conservation of Nature (IUCN) lists them as Critically Endangered on its Red List of Threatened Species.
Conservation efforts focus mainly on protecting nesting sites from poachers, reducing marine pollution affecting their food sources, and educating local communities about preserving this species.
Are Leatherback Sea Turtles Endangered?
Leatherback sea turtles are endangered, with their population estimated to have decreased by 80% over the past three decades.
They face several threats from human activities, such as fishing and hunting, habitat destruction, pollution, and climate change.
As they migrate across several ocean basins during their life cycle, they need protection in all parts of their range if we want to help them survive in the future.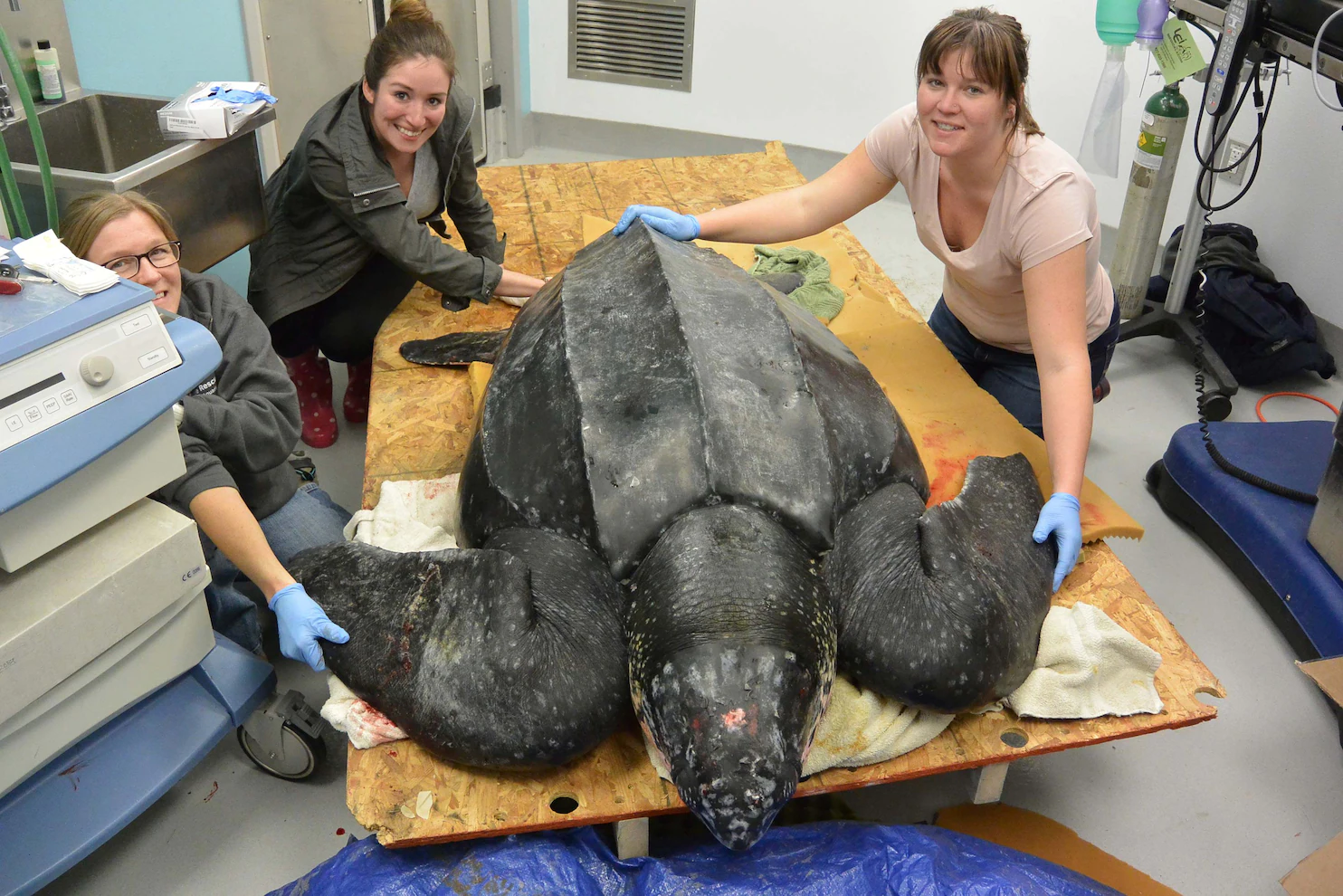 The leatherback sea turtle is a fascinating creature. They live in tropical and temperate oceans worldwide, can swim up to 40 kilometers per hour, and typically lay eggs every 2-3 years.
Unfortunately, their population has declined due to human activities such as overfishing and plastic pollution. This makes them an endangered species, which should greatly concern
We must take action by supporting organizations working to protect these beautiful animals and ensure our efforts aren't contributing to the further decline of this incredible species. It's our responsibility to work together to ensure that future generations can enjoy seeing leatherback sea turtles in their natural habitats.