The story surrounds Sanzhi Resort situated in New Taipei City, Taiwan. A resort was popular for UFO-shaped homes and haunted stories.
Sanzhi Resort is popular with names like Sanzhi Pod Houses, Sanzhi UFO Houses, or Sanzhi Pod City.
The homes of the resort were constructed and shaped like UFO which later got demolished after mysterious fatalities.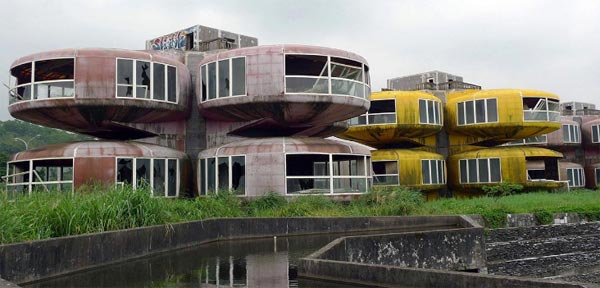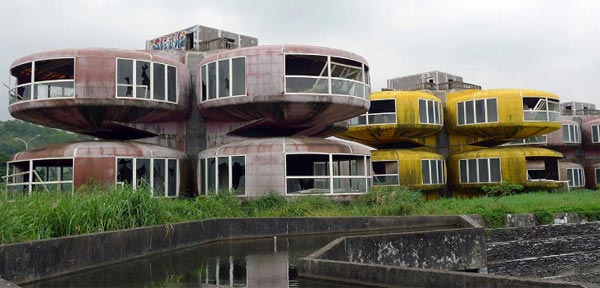 It all started when people began to notice numerous fatal and mysterious accidents – including deaths.
The construction of UFO-shaped houses stopped mid-way after back-to-back deadly accidents. This is the reason why the Sanzhi Resort never got inaugurated.
With weird, mysterious and deadly accidents, Sanzhi Pod Houses Are one of the creepiest places on earth.
Sanzhi UFO Houses:
It was during 1978s, the construction of these UFO-shaped houses started in the Sanzhi District.
It was a vacation destination for the US military officers that moved to the Far East and wealthy Taiwanese.
However, after two years, the construction Sanzhi Pod City stopped due to mysterious incidence and deaths.
After the numerous mysterious deads and accidents, the resort legally became a restricted area.
Since then, it became an underground tourist attraction who fascinated paranormal activities and conspiracies.
The deaths include numerous workers who got into fatal accidents or committed suicide.
According to the reports, the ones who committed suicide showed no signs of depression. Also, some workers died in car accidents.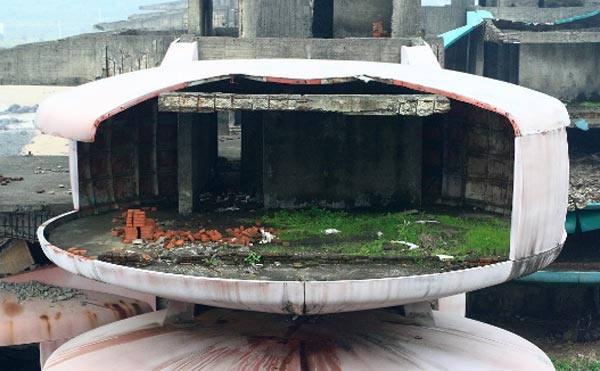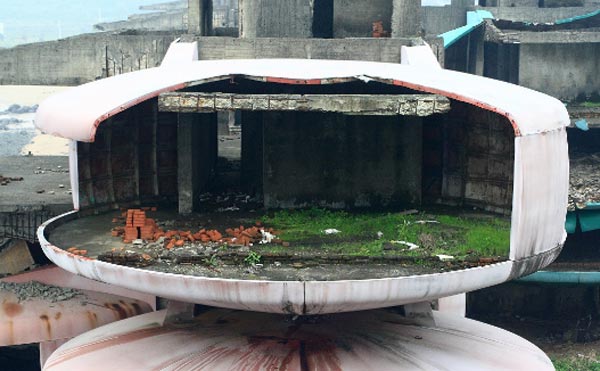 Superstitious Beliefs About Sanzhi Resort:
Due to fatal accidents, while constructing UFO-shaped homes, some people had superstitious theories about the land.
Some people found skeletons that rumored to be of 17th-century Dutch soldiers. The rumors trigged more when people believed to find more than 20,000 skeletons.
Also, many construction workers claimed to see some spirits who did not want any commercial property on their sacred land.
Another superstitious belief surrounds the demolition of the dragon statue by the constructors, triggering superstitious beliefs among workers.
During the construction, a large ceremonial dragon statue was knockdown to widen the entrance.
The concrete dragon statue stood at the endurance and bringing it down would make a huge entrance for the resort.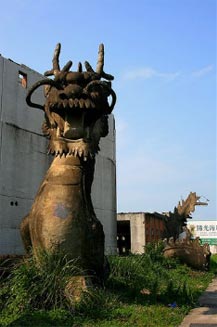 In Asian culture and tradition, dragons are a symbol of heroism, a good fortune, and luck.
Also, dragons are an emblem of energy, success, confident, luck, power and prosperity.
Re-Construction Of Futuro Houses:
Now, Futuro Houses or the UFO-shaped houses are nothing but the rotten, smashed and scummy site.
Those beautiful and unique-looking houses are now nothing just an abandoned place with faded colors.
Once a slide made for children now stands broken and damaged near the man-made pool while the other parts like roofs and windows look smashed and scattered.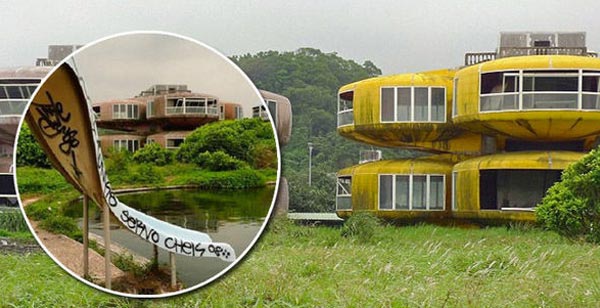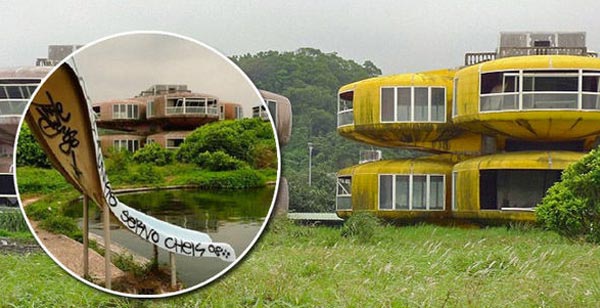 In 1980, the constructors and developers got bankrupt and the construction of Futuro Houses was shut down.
The strange constructions and conspiracy theories made the ghost town a popular tourist area for urban explorers.
However, in 1989, the president of a local beer house came up to complete the construction of UFO-shaped homes.
The plan of finishing the Future Homes was in full swing with all hired designers and architects and backed up with 24 million US dollars.
There are rumors that the designers made the UFO houses from reinforced concrete covered with fiber-reinforced plastic.
Due to this, there were higher chances of greater damages during earthquakes.
However, the investors didn't want to spend more money and time to start from scratch.
So, by the end of 1989, the project got shelved again.
What Happened To Sanzhi UFO Pod City After 1989?
Many film crews, magazines, and photographers used Sanzhi UFO Pods according to their projects.
MTV had also used some of the structures for their cinematography and photography projects.
Sanzhi was one of the popular topics of online discussions.
Sanzhi Pod Houses have named 'ruins of the future and 'ghost town.' Also, this ghost town was a favorite spot for curious tourists and explorers for nearly 20 years.
However, in 2008, the demolition of Sanzhi UFO Pod City began despite numerous petitions. The petitions were to save at least one structure and preserved in a museum.
After demolishing of Sanzhi Pod City in 2010, there is news of another beach hotel being in construction over the Pod Resort.